Introduction of business operations
E-book business operations at Amutus

Mecha Comics is a Japanese top-class e-book website, distributing content that can be viewed on smart phones, tablets and mobile phones anytime and anywhere.
a collection covers a wide range, from the latest popular works to classic ones.
We also provide sample chapters, so you can quickly read the ones you like.
Now, come and enjoy smart reading experience with Mecha Comics!
After clicking it will be in Japanese.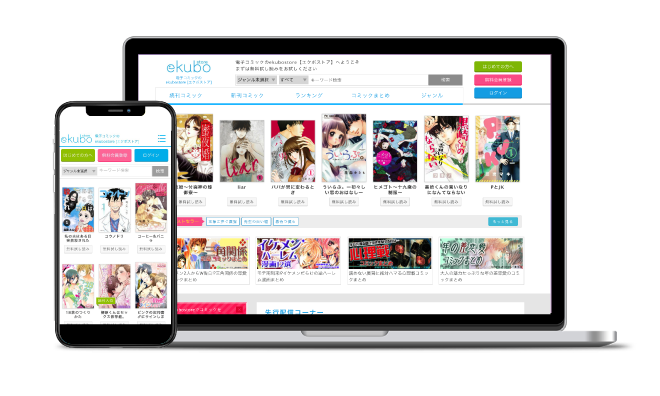 Ekubostore enables customers to browse and read e-books by one-click, sharing the same reading experience as paper materials. It is multi-device compatible and can be used from various terminals.
Its comic screen is allowed to zoom in or out and be adjusted to personal readable size for every user. To support a better reading experience, pages can be moved back and forward and be bookmarked for reference.
It will surprises you anyway even if e-comics was thought to be difficult to read.
After clicking it will be in Japanese.
Comic Development at Amutus
We create services with familarity and convenience for our readers and turn every minutes of their free time into "pleasant moments"
In order to facilitate these "pleasant moments" with our e-books, we have worked to obtain an understanding about a range of our readers' needs. We have planned and produced a variety of works that are only available at Amutus, and provide works to a number of leading e-book websites in Japan.
Amutus
overseas business operations
Amutus' business operational development continues to move forward on a global scale, with the intention of further spreading these "pleasant moments" throughout the world.
Through the collaboration with overseas local affiliates, we localized our collected digital comic data and distributed it to various overseas electronic e-book sites. From overseas sales promotion to marketing, we make our great effort to sales expansion.
Amutus's Broad Range of Service and Application Business Operations
Amutus offers a large number of entertainment services that can be enjoyed on smart phones and similar devices, in order to help facilitate these pleasant moments for all. We encourage you to enjoy your free moments with Mecha Comics, a service that offers something a little different than the rest.
Get as many cool ringtones as you want! A ringtone distribution website for smart phones and mobile phones.
Aside from popular J-Pop pieces, this wide-ranging song lineup also includes music-box instrumentals and works for use with email!

After clicking it will be in Japanese.

Puzzles and action mini-games, as well as fortune telling and diagnostic contents are distributed here! A wide variety of games for feature phones is also on the offer.

After clicking it will be in Japanese.

A health information distribution website that provides comprehensive support for women's bodies. Nayami Micchan (Miss Worry Wart) guides visitors through a substantial assortment of content, including body management tools, a disease dictionary, self-check functionality, and feature columns.

After clicking it will be in Japanese.

The Sneaky Beauty Class for Beautification Techniques is a website aimed at women in the 30s and 40s. It features an abundance of rich content relating to beauty, diet, love and menopause, created under the supervision of specialists. There are also substantial services offered that allow the dissemination of high-quality and intelligent aging-related information to accompany us as we grow older, such as women-only communities where women of a similar age group can share information.

After clicking it will be in Japanese.